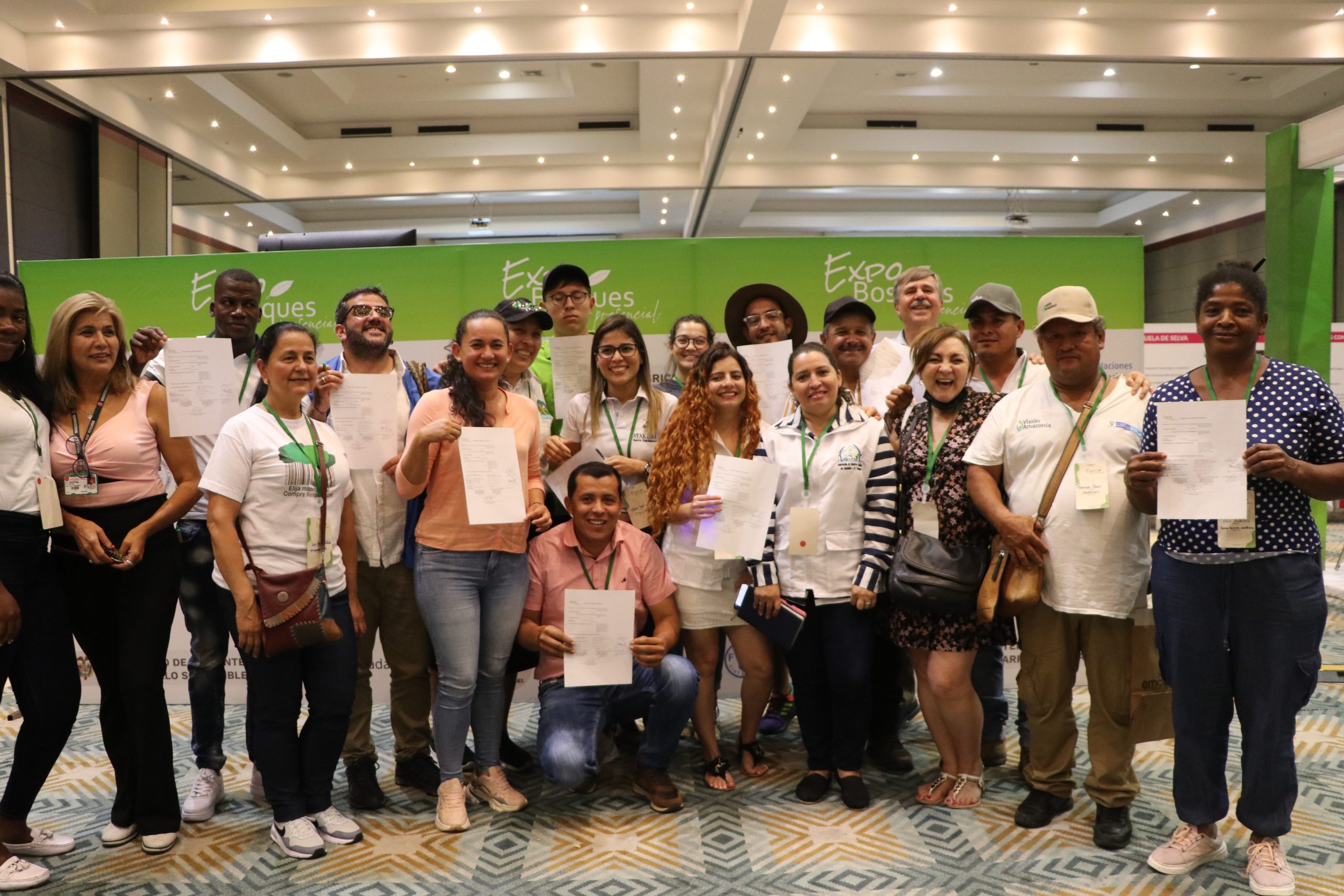 ExpoBosques: Platform for Exchange Experiences to Reduce Deforestation and Sustainably Manage Forests
ExpoBosques is an initiative that brought together more than 120 exhibitors from Colombia, Honduras and Guatemala, including community representatives, social organizations, companies and public institutions to exchange knowledge and experiences in sustainable forest management.
On October 4 th and 5th, in the city of Villavicencio, Colombia, ExpoBosques created a space where representatives of these experiences were able to establish 24 collaboration agreements, both collective and bilateral, based on the identification of opportunities for replication in their territories.
"For us it has been very important to participate because we have had the opportunity to make our process known to other actors and institutions, but also to build alliances," said Elizabeth Castano, representing the experience of Diverse Tropic
Also, communities, institutions and the private sector consolidated key messages in a space for participatory construction and dialogue. These are presented to the government as inputs for the new national development plan in order to promote and assure the viability of a forest economy and sustainable forest management
"We know that we need to take solid and certain steps and we are going to take those steps with you, with your experiences, gathering those lessons learned, you can tell us how the government can act in a precise way to solve them and make it a reality that the forest economy can play a role in the nation's GDP," said Sandra Vilardy, vice-minister of Colombia´s Ministry of Environment and Sustainable Development.
The participatory dialogue ended with the signing of an Agreement of Intent, where speakers and representatives of the different entities pledged to work to incorporate key issues for sustainable management and use of forests into Colombia's National Development Plan.
Nearly 300 people participated in person in Villavicencio and more than 3000 viewers followed the online transmissions. To get an impression of the event you can watch the video summary of ExpoBosques and learn about the experiences through our virtual platform.
This initiative was developed by the ProBosques Project, financed by the German Ministry for Economic Cooperation and Development (BMZ), in alliance with the Ministry for Environment and Sustainable Development (MinAmbiente), the Ministry forAgriculture and Rural Development (MinAgricultura), the Norwegian Embassy, the Food and Agriculture Organization (FAO), the World Wide Fund for Nature (WWF), Fondo Acción, ONF Andina , Corazón de la Amazonia, GGGI, USAID´s Paramos y Bosques Project and the Sustainable Amazon for Peace Project of UNDP